XSaver version 2.1 (Updated 10/07/2005)
XSaver is a customizable picture slideshow screen saver. It has 150 transition effects. It supports JPEG, GIF, and BMP. Just add pictures, sit back, and watch XSaver dazzle you with cool effects.
Installation.
It is easy to install XSaver. Unzip the files into any folder on your computer. Right click on XSaver.scr in explorer and click on install. If you don't see it, simply copy the XSaver.scr into your Windows directory (C:\windows). Right click on your desktop and goto screen saver. Select XSaver as your default screen saver.
Using XSaver
Add any image file to XSaver (jpg, gif, bmp). When you are done, click on Preview to see XSaver in action. You can set images to change at timed intervals and the transition effects to use.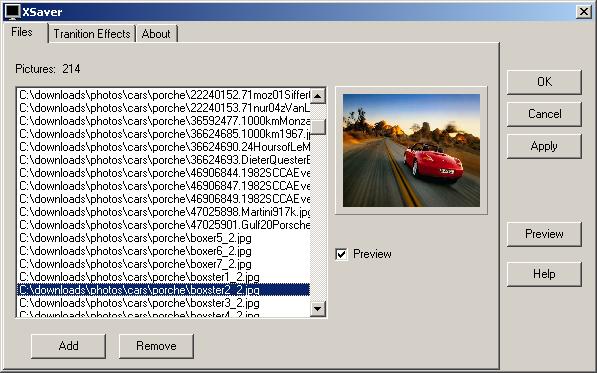 Visit ww.amersoft.com for latest updates (http://www.amersoft.com)
Send any comments or suggestions to support@amersoft.com
For Bugs or New Features, send an email to support@amersoft.com