ZoomImage v1.0.0.1
http://www.amersoft.com

Viewing images just got easier. ZoomImage is an image viewer. Point this application to any file and it will search for all the image files on that folder. ZoomImage supports JPG, GIF, and BMP. It allows you to navigate from images to images with ease. There are 2 buttons on the toolbar to move backward or forward. If the images are too small or too big, no problem, there is a slider on the toolbar to let you zoom in and zoom out. Below is a screencapture of ZoomImage.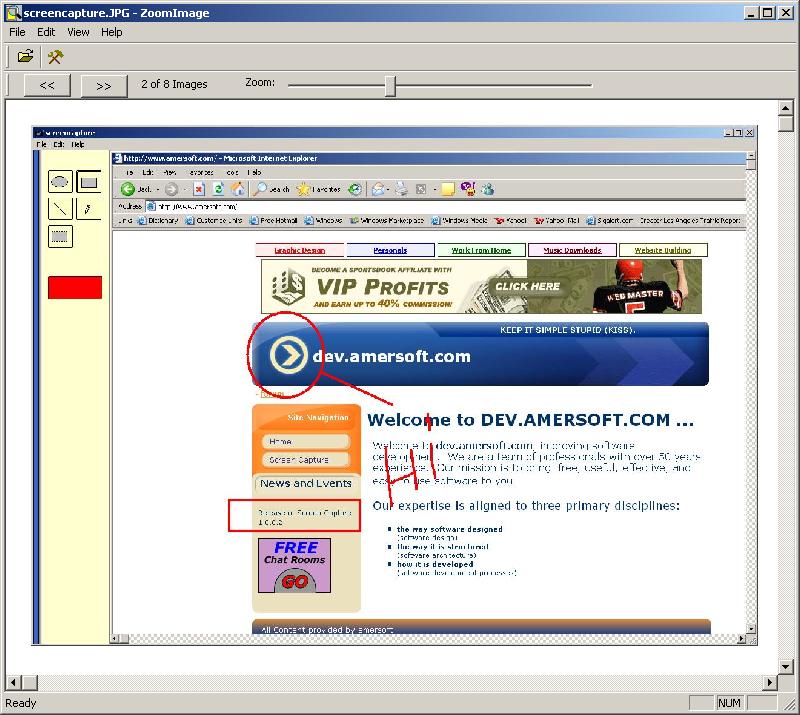 Screen capture of ZoomImage. Image was captured with ScreenCapture.exe
Installation.
Installing ZoomImage cannot be any simpler. Simply unzip the files into any folde on your computer. To start zoomimage, just double click on zoomimage.exe. If you want ZoomImage to appear on your desktop, right mouse click on "zoomimage.exe" and select "Send to" | "Desktop".
Using ZoomImage
ZoomImage is an image viewer. Open any image file with ZoomImage. Use the slider control to zoom in or zoom out. ZoomImage will locate all the image files on that folder. On the toolbar you can see the number of the current image out of the number of images on that folder. Use the back button and the forward button to see the images on the folder.
Visit http://www.amersoft.com
For Bugs or New Features, send an email to support@amersoft.com