ColorSniffer
ColorSniffer lets you select a color anywhere on the screen. It'll show you the color value in RGB, HEX, and HTML. It is ideal for graphic artist, website, and application developers.
Installation.
It is easy to install ColorSniffer. Unzip the files into any folde on your computer. To start ColorSniffer, just double click on colorsniffer.exe. If you want ColorSniffer to appear on your desktop, right mouse click on "colorsniffer.exe" and select "Send to" | "Desktop".
Using ColorSniffer
Click and hold down the left mouse button on the dropper. Move it anywhere on the screen. The color and its value will appear on ColorSniffer.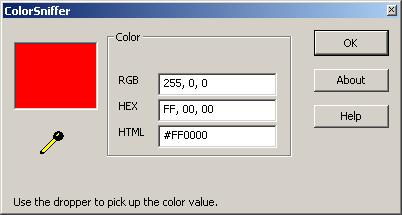 Visit ww.amersoft.com for latest updates (http://www.amersoft.com)
Send any comments or suggestions to support@amersoft.com
For Bugs or New Features, send an email to support@amersoft.com